Methylsulfonylmethane (MSM) is a kind of organic sulfide, which is necessary for the synthesis of human collagen. Therefore, pharma foods grade MSM is widely used in the market and is the main drug to maintain the balance of biological sulfur.
MSM is found in human skin, hair, nails, bones, muscles and various organs. Once the lack of MSM in human body, it will cause health disorders or diseases.
MSM is a compound with excellent preventive and therapeutic properties, which has many important functions:
Help the body detoxify

Tissue reconstruction

Relieve muscle soreness, headache, backache, etc

Effectively enhance the weak cells, help to resist osteoporosis

It has the function of anti parasite and inhibits the destruction of collagen
Zhuzhou Hansen Chemicals Co.,Ltd is a professional manufacturer of MSM from China. We have been focusing on the R & D, production and sales of MSM for more than 20 years. Our annual production capacity is over 4000 tons, and the product quality is stable and reliable.
Our pharma foods grade MSM can be widely used in joint health care products, dietary supplements and pet health care products.
MSM as a nutrition can promote the health of skin, nails, hair, bones, tendons and organs. And MSM has anti-inflammatory effect, can effectively promote the joint health of dogs, cats, horses and people.
As a dietary supplement, MSM has excellent efficacy. You can find the most suitable pharma foods grade MSM in Hansen. We produce the best quality MSM crystal and have enough stock.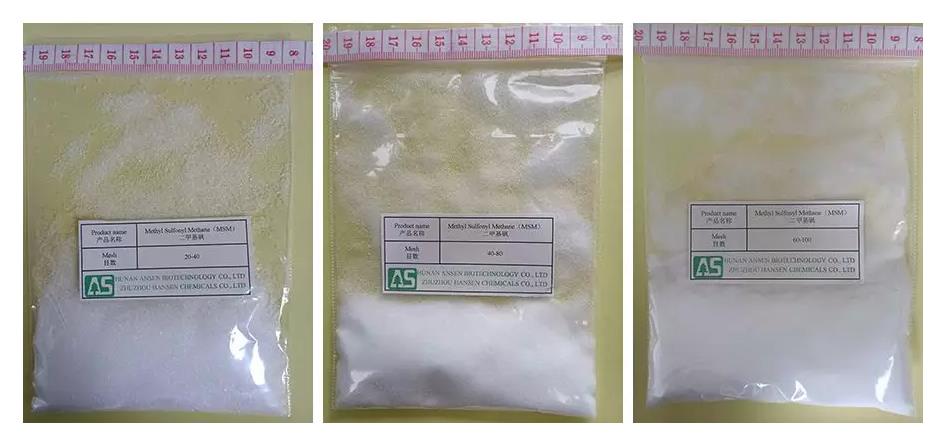 Tags: Pharma Foods Grade MSM Exporter, Pharma Foods Grade MSM Manufacturer, Pharma Foods Grade MSM Supplier